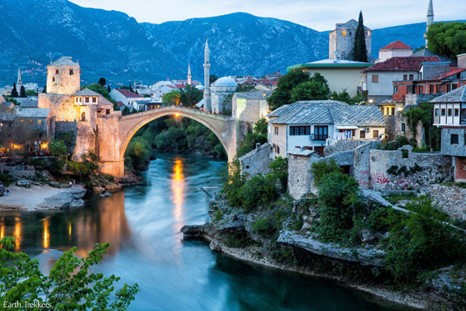 | | |
| --- | --- |
| Included | Excluded |
| Round Trip Economy ticket with Fly Dubai | Visa fees (If needed) |
| 7 nights' accommodation at a 4* hotel | Personal expenses |
| Breakfast is an open Buffet in hotels | Entrance tickets |
| Daily tours according to the above schedule | Meals except Breakfast |
| All taxes | |
| All transfers by a private car | |
Prices and conditions
| | | | | |
| --- | --- | --- | --- | --- |
| City | Hotel name | Room Category | Breakfast | PRICE |
| Sarajevo | Hotel Orange 4*or similar | 1 Double | Yes | AED 3,900.00 |
| | | | | |
N.B. Similar hotels might be suggested if above hotels are not available.
VAT is included
Prices are per person in AED depending on the room type
Rates and availability are subject to change without prior notice
Day 1: Arrival to International Airport Sarajevo,  transfer to Mostar
On the way to beautiful city of Mostar we will have two tours.Konjic Bridge, Konjic, Herzegovina-Neretva Canton, We will explore the Old Town of Konjic and Old Bridge
Day 2: Mostar city tour & Tekie Blagaj spring of river Buna
Mostar City Tour is unique experience for those who seek something more. It takes you to the most important site of Mostar's history: Ottoman Old Town, Austro-Hungarian promenades and Yugoslavian huge residential blocks. Our visitors will learn about town's history, lifestyle, cultural and religious influences. Mostar City Tour also takes you to the most important sites of the war of 1990's.
Understanding Mostar' rich history is not fully possible without reaching out of Old Town's core. Mostar City Tour takes you on a journey through time: from mysterious era of Ottoman Empire and Austro-Hungarian romantic fin de siècle to socialist realism of Yugoslavia. While walking through the cobblestone streets, under the shades of plane trees or war-torn financial district, one will experience dramatic shifts in world's history and their influence on a town which has both thrived and suffered throughout its existence, yet preserved its own way of life. Mostar City Tour takes you to the most significant monuments of Mostar's history, from early 16th to late 20th century. Blagaj Tekke tour
On this day tour we will visit Blagaj – an ancient capital of Herzegovina region. This heaven of peace and natural harmony, is located only three kilometers from the Mostar airport. Due to the proximity of the Adriatic sea (around 45km) and its low level above sea, the climate is Mediterranean with very long and hot summers.
Blagaj has a fascinating history and offers a variety of authentic cultural experiences. In this area were found traces of human life since prehistoric times, in the famous Green cave have been found artifacts from the 5 century BC. During the Middle Ages Blagaj was known as the capital of the Herzegovinian region. There are also the ruins of Stjepan town, the castle, which is located on the inaccessible cliff above the Buna river, and which were the seat of numerous Herzegovinian rulers. The most famous of them was the Herceg Stjepan Kosaca after whose title this region got its name, Herzegovina. The Buna spring in Blagaj is simply breathtaking. It is also one of the largest sources of drink water in Europe, the second amount. Next to the source, a 16th century Dervish house – Tekke is still one of the most mystical places as well as one of the most important cultural and historical monuments in all of Bosnia&Herzegovina. The place is still used for dervish gatherings but it is also a museum. While being there one can definitely feel the spiritual power of this place. It is an amazing piece of nature. A hundred meters along the river one can spot places for canoe enthusiasts.
Day 3: Pocitelj & Kravice waterfalls
If we look back to history, we can find the first recorded reference to Počitelj in1444, when King Alfonso V of Aragon mentioned it. In 1471, Počitelj was conquered by the Ottomans, like the rest of Herzegovina too. From 1782 to 1879 Počitelj was the seat of akadiluk (area under the jurisdiction of "judge"). It was the center of the military district from 1713 to 1835 as well. It remained within the Ottoman Empire until 1878 and after that, it becomes part of the Austro-Hungarian Empire. After that Počitelj had lost his strategic importance and started deteriorating rapidly. Kravice waterfalls tour
Magnificent Kravice waterfalls -a 30 meters high and 130 meters wide making it the largest in the region. For all nature lovers and outdoor sympathizers this tour is right decision. Day trip guarantee you new experience, fun memories and perfect photos in a relaxed atmosphere.
Day 4: Jablanica & Jabalnica lake   
Museum Battle for the Wounded on Neretva River, Jablanica, Herzegovina-Neretva Canton, Federation of Bosnia and Herzegovina We shall visit open air museum "Battle for Wounded" and destroyed bridge over Neretva which in most important symbol of the Jablanica. Beautiful drive by Jablanicas Lake, towards Mostar. We shall be driving through very scenic road along the beautiful Jablanica Lake and Neretva River Canyon overlooking amazing mountain of Prenj. Possible stop for photos. Arrival to Sarajevo
Day 5: Garden of river Bosna & Sarajevo city tour 
Sarajevo city tour
You'll enjoy the beauty of Vijećnica, a world symbol of the meeting of civilizations and the most representative structure from the Austro-Hungarian period in Bosnia and Herzegovina; hear the incredible story of Inat Kuća, then stroll along the narrow and winding streets which display trades that have been active since the 15th century.
You'll discover Baščaršija, Sarajevo's old market place which was built during the Ottoman period; drink water from Sebilj, the fountain that serves as a symbol of Sarajevo, and learn about the differences between burek and other types of pita.
Garden of River Bosna tour
After just an half of hour drive from the city center, you will arrive to a very peaceful green area of Sarajevo. As the name itself says, these are springs of River Bosna, located in the central part of our heart-shaped country. The River flows along the country and the spring is the greatest in the country. Spring and surrounding nature combined with Igman mountain, present beautiful natural complex, ideal for family relaxation and offers fresh chilly air even in hot summer days. If You are about to escape Hell, come to Green Heaven! Swans, enormous amount of water all around, fresh breeze coming from Igman, rich green vegetation, parks for kids, Eco-zone are guarantee of perfect day!
Day 6: Travnik and Jajce waterfalls tour
Travnik tour
After breakfast in the hotel visit Travnik, a small town from Ottomans period of rule. Travnik is known for its Fortress & Blue Water spring. A nice and iconic cafe is near the river where they serve the best Bosnian coffee you can taste. Jajce tour 
Early breakfast & visit medieval Bosnia: Jajce, the capital of Bosnian kingdom dating from 15th century. Later visit the Great and Small Pliva Lakes located a few kilometers away from Jajce . These lakes offer many recreational opportunities: fishing, kayaking, canoeing, swimming, playing volleyball, biking and walking. There are also public barbeque facilities along the lakeside for picnics.
Day 7: Olympic Mountain tour 
After panorama of Sarajevo and stories related to Olympics, our guide will take you to beautiful mountains. First on our way is mountain Bjelasnica. It is the highest part of the Dinaric Mountains. It is also best ski center in Bosnia and Herzegovina today. Alpine skiing disciplines of the Olympic Games were held on this mountain. In a beautiful mountain house we can enjoy hot tea.
After Bjelasnica Olympic mountains tour in Sarajevo will continue to mountain Igman. On this mountain competition held in Nordic skiing, biathlon and leaps. You can see jumping slopes still stands.
Day 8: Departure
See you next time, it was a pleasure having you here in Bosnia
Notice:
Any package purchased from MICCO Travel will be subject to the below terms and conditions accepted by the buyer.
Booking Procedure:
In order to proceed with any booking, a copy of your passport is needed along with 30% down payment and the visa cost if required. Future payments will be agreed as per package rules.
Package Cancellation:
45 – 75 days prior to departure date: 30% of the total cost of the package
45 – 30 days prior to departure date: 50% of the total cost of the package
30 days until departure date: 100% of the total cost of the package
Important:
Above cancellation policy does not apply in case of non-refundable bookings. Full payment must be submitted in this case upon booking.
In case of visa rejection, visa fees and above cancellation rules still applies, however we will do our best to minimize and waive the charges, but it cannot be guaranteed.
Flight Itinerary with Fly Dubai
| | | | |
| --- | --- | --- | --- |
| Origin | Destination | Departure | Arrival |
| Dubai | Sarajevo | 10:10 | 13:30 |
| Sarajevo | Dubai | 14:30 | 22:50 |